I spent the better part of the day at a crafting show. Yarn galore, and lots of other things that (thankfully) I'm not into. I am now the proud owner of: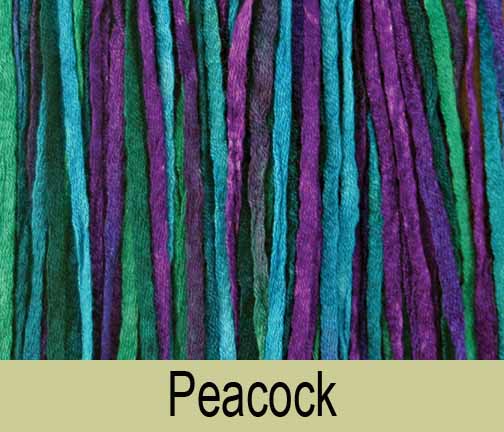 a) lace-weight wool (basically, thick thread) in a gorgeous mix of purples, blues, and greens. Just like my wrist tattoo, basically, only in yarn. This will be a shawl one day. Pattern not yet decided, but oh, the fun I'll have trying to pick one! :)
b) a small skein of recycled silk. This is apparently spun from snippets of sari fabric, and it's stunningly beautiful. Mine is similar to the blue shade but with more purples and greens. Absolutely no clue what it'll become, but it refused to stay at the show and insisted on coming home with me. Cannot argue with yarn!
c) 16 balls of Bernat Black Lites, a beautiful black yarn. Mine is like the picture but with blue strands through it. It was $0.97 a ball and I sort of went crazy. I also bought a pattern book for $0.97 and this yarn will become a knit cardigan once the first cardigan is finished. Sometime in 2098, I'm thinking.
d) Five balls of Bernat Haven in a soft green. This is going to be a snuggly little wrap.
Why am I posting all of this? Besides the fact that yarn is purty? Because I have developed an unfortunate tendency to stick to the patterns in crafting, especially crocheting. I don't seem to just pick up a hook and some yarn and just play. And just playing is probably the best thing I can do, at least sometimes.
I need to play with the books too... some of my favourite scenes in my own writing are the ones where I just thought, "Okay, this is weird but let's try it out"... and being just a bit off-kilter made the scene amazingly interesting. Now that writing is my career, it's tougher to do that, and it's also probably more necessary. So I will do more of it with the yarn as well, and perhaps it will carry over into the writing. And if not, at least I'll have a neat shawl or something to wear. :)
Writing Project:
none - considering today a 'weekend day' because of the craft show
Time Planned:
zilch
Time Spent:
exactly as planned
Favourite Part:
driving along to/from the show and having bits and pieces of the book form themselves in my head - 'weekends' don't really exist when a book's trying to figure itself out!
Exercise:
45 minutes elliptical - which is great, except it was SUPPOSED to be 30 minutes and 30 minutes of weights, but I forgot and just did the elliptical. Oh well.
One Fun Thing I Did Today:
petted some seriously gorgeously soft yarns, and got to see some yarns 'in person' I've only ever seen on the Internet